119: Quoth the raven, `Nevermore.'
Please take a minute to vote for Roomie over on TopWebcomics, where I said I'd be posting periodic updates on my senior project but so far have been too lazy to do that…

Want more pages a week? Of course you do! Donate to my coffee fund to fund more weekly updates! And remember to please send in questions for Patreon's monthly Q&A! Leave a comment that starts with "Patreon Q&A" or send in a question here. Thanks!

---
Orev might be my favorite character in this. Just look at him. Such a badass.
Also, I may own those exact pair of shoes…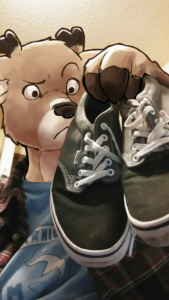 And Hugh's sweatshirt but I was too lazy to dig it up to take a picture.
Most of my wardrobe is things I bought because an OC of mine would wear it, honestly……
Also the bottom left panel had a really great hand but I had to redraw it because I suck at thumbnailing so I'm putting it here LOOK it's beautiful *sob*
I'm not getting enough sleep