036: In which the unsuspecting victim assists Mary in her plan
on
March 24, 2017
at
01:23
Please take a minute to vote for Roomie over on TopWebcomics. Rewards are coming soon!
Want more pages a week? Consider donating to my coffee fund or checking me out on Patreon.

---
I went back to poke around on my old webcomic. Turns out I posted this page on my first day of college. And here I am on my second semester of junior year. Sometimes I think to myself "man my art doesn't stand up to these other webcomics what am I doing with my life." But then again, come on, look at how much I've improved since then.
No, wait. I still can't draw backgrounds. Never mind.
Also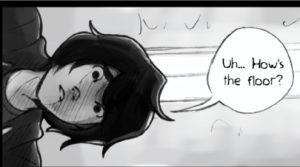 I'm getting better at coloring but this page doesn't go up for like three more weeks uuuggghhhhh. I wanna show it off NOW. >:C